Facilities
Pro Shop and Driving Range
Arcadia Municipal Golf Course offers the best in equipment and apparel to compliment your game. Stop by our fully-stocked Pro Shop before or after your round and browse through name brands.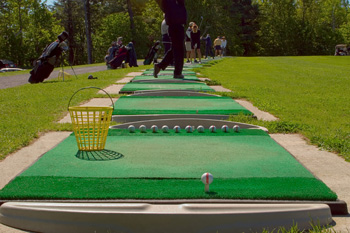 Our friendly staff will help you make start times, rent golf carts, sign up for club storage, and register you and your guests before each round of golf. An excellent selection of golf clubs and related merchandise are sold in the golf shop and golf lessons are available.

We also offer a snack bar with sandwiches and lunch specials. We offer draft and can beer as well as wine and wine coolers.

Bag storage is available on a first come basis. No bags will be stored on the floor in the bag room as it hinders floor cleaning and waxing. Any bags stored without a current storage agreement on file will be confiscated. Please have your name on your bag to assist staff in insuring your bag is in the proper bag space. Please do not keep any food items in your bag. Bag access when the Pro shop is closed will be based on staff availability.
The Arcadia Municipal Golf Course is open 363 days a year. We are closed Thanksgiving & Christmas Day. Hours of operation are 7 am until 8 pm Monday to Saturday and Sunday hours are 7 am to 6 pm.